9 examples for slicing and dicing your content, with Stephen Woessner
Episode 889
Slicing & Dicing Cornerstone Content
I'm going to focus our time today around how to slice and dice your cornerstone content and I will be sharing a bunch of examples for how you can take one piece of weekly content like a blog post, a YouTube video, or a podcast episode and slice and dice it into many more smaller pieces of content.
And the slicing and dicing does several things for you.
One — it makes your content — your thought leadership that much easier to consume because like Jay Baer shared with us during Episode 305 — you will be creating little info snacks that essentially hang off the big meal of the cornerstone content.
Second — by creating info snacks — you will also be more helpful to your audience because they can get through more of your stuff quickly.
And third — by being able to get through more of your stuff…faster…and because you will be sharing your sliced and diced info snacks across more channels — you will give your audience the impression that you are EVERYWHERE. So every time they turn around…there you are being helpful.
Awesome.
Okay — so why another episode on slicing and dicing content.
Because if you've been listening to Onward Nation for a while a now — or watching some of the videos we have shared on our YouTube channel — you already know that slicing and dicing content has been a topic that I have been spending quite a bit of time on the last couple of months.
But — with each video, solocast episode, LinkedIn post, or wherever else we're slicing and dicing…we're getting more and more questions or requests to go deeper and deeper into more detail.
For example — Brian Edman and I (Brian is one of my teammates on our Account Services team here at Predictive ROI) were in a checkpoint meeting with one of our clients and she said to us — "Stephen is everywhere with his posts — every time I turn around — there he is. I want a content strategy like that."
So when we heard that — we thought — "Hmmm — this is an exceptional opportunity for our team to become even more helpful to our clients by providing that level of content strategy — so that's awesome — but her feedback also showed me the value in creating an even more detailed — and visual — breakdown around slicing and dicing.
So that's what we are going to do in this episode.
Okay — a quick word of caution though before we begin.
I said visual, didn't I?
Which "visual" doesn't seem to make sense since you're listening to my voice right now.
So — much of today's solocast will work just fine as an audio episode — but I will say — that I pulled together a bunch of visual examples and embedded them into the Show Notes for this episode.
So — if you're driving or running on the treadmill right now — some of the examples I share with you aren't going to make as much sense as if you had the Show Notes in front of you. No worries — just go to PredictiveROI.com when you're not driving and find the Show Notes for today's solocast and all of it will be in there.
I tried to curate as many visuals as possible to make these slicing and dicing examples as helpful as possible.
And as always — I want your feedback. If you have questions, concerns, or you think that I flat out missed something — I want to know.
Please message me on LinkedIn or send me an email to Stephen At PredictiveROI.com and I'd be happy to help any way that I can.
Alright — let's walk through some slicing and dicing examples…
Example #1: Transforming your solocast episodes into book chapters
When it was time for me to write the book "Profitable Podcasting" — I knew I wanted it to be more than just a book about how to launch and monetize a podcast. I wanted to write a business book — with business know-how, strategy, and smarts that our audience of business owners would value and appreciate.
I recorded Episode 65 as my very first solocast. I went deep with the content because I really wanted to pour my heart into the episode because it was my first solocast — and candidly — it helped me get past the fear, too…thinking that if I overdelivered in value…any criticism may be less severe.
And awesome — the feedback following 65 was positive.
So I continued recording solocasts — one per week and found that I enjoyed teaching at that depth.
When it came time to pull content together for "Profitable Podcasting" — and because I knew I didn't want it to be a podcasting book per se — I already had a library of long-form solocasts that I could transform into business-focused book chapters. Rock solid awesome!
So we did. For example — if you compare the content from Episode 65 with Chapter 1 in the book — you will see similarities.
All totaled — I repeated the solocast-to-chapter transformation process seven times while writing "Profitable Podcasting."
The slicing and dicing process essentially looked like this…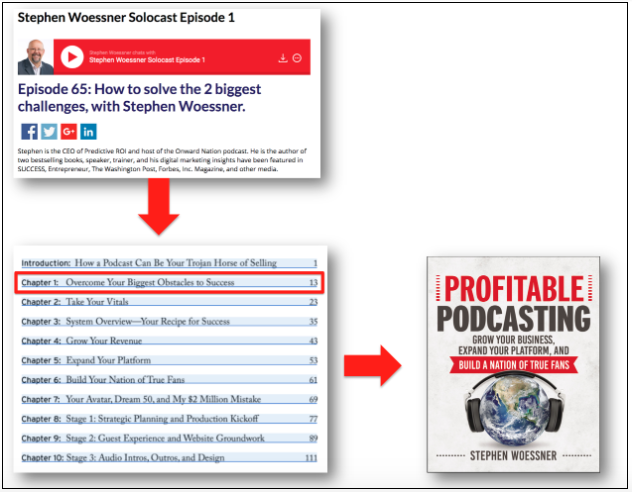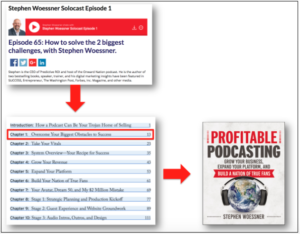 Example #2: Solocast becomes a webinar and service offering
Again — my team and I look for opportunities to slice and dice Episode 65 to get as much mileage out of it as possible.
So instead of creating the standard bullet point show notes — we went long-form and created what I like to call an "epic blog post". You can find the episode and long-form cornerstone content here (just scroll past the podcast player and the bio and you will see the beginning of the blog post).
Then I took it deeper by creating a slide deck to illustrate the cornerstone content.
And then I used the slide deck to teach a 60-minute webinar on the topic.
All of that went great.
Here's where I went off the rails and made a mistake. I thought it would be a good idea to pitch a service offering at the back end of the webinar. But — it wasn't the right offer and my delivery was clunky at best — so it fell flat — but thankfully the content before my poorly orchestrated pitch was helpful enough that the audience forgave me. Don't make that same mistake.
Example #3: Guest interviews become YouTube and social media series
We take one of our Onward Nation episodes and send it to Rev.com or Temi.com for a transcript.
Katherine on my team then reviews the transcript carefully and selects what she believes is the most inspirational quote from the guest.
Katherine then researches and selects stock video that she feels visually tells the story of the guest's quote.
She then edits together the 1- to 2-minute video using the guest's audio as the narration over top of the stock video.
Katherine then uploads the file to our YouTube channel as part of our Motivational Monday series.
This video highlights an inspiration message highlighted by Justin Copie, CEO of Innovative Solutions during our encore interview for Episode 830.
I then download the video file from YouTube and upload it to LinkedIn along with a short written summary as a post to my connections.
Craig on my team is now starting to write long-form blog posts around the selected episodes and why we chose the clip for our audience for our Motivational Monday series.
We will embed the corresponding Monday video into the blog post and then optimize it for search so we attract more traffic to PredictiveROI.com.
If you follow the same recipe — you could then write five tweets about the highlights within the video in order to drive traffic back to our website so your Twitter followers can watch the video via the blog post.
Example #4: Blog becomes book pitch
Recently — I've been thinking about my next book. Something big.
We started playing around with the idea of The ROI of Thought Leadership and wondered if there would be some merit to the concept.
Well — before I felt comfortable in pitching the idea to my agent — I need to get some content down on paper.
So Katherine on my team asked me to write a blog post quickly one afternoon so we could get it posted on PredictiveROI.com.
Writing the blog post ended up being the perfect foundation for what became a deep dive solocast for Episode 881 of Onward Nation.
And once we had both done — I was confident enough with the idea to pitch it to my agent.
And now we're working on a proposal to sell the idea to publishers. But it all started with a single blog post and a couple of hours of work.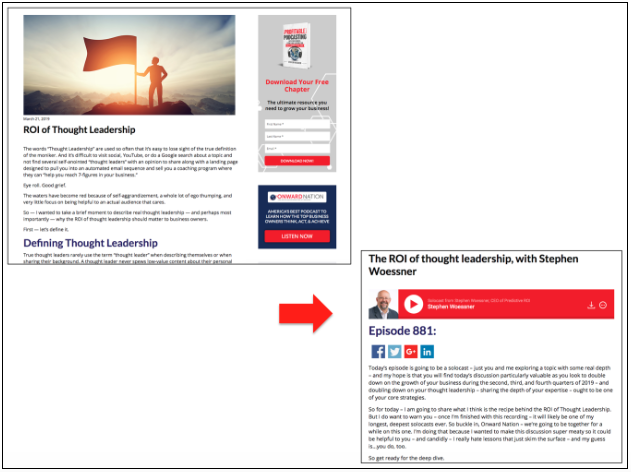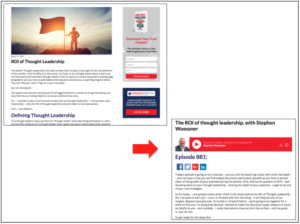 Example #5: Solocasts evaluate helpfulness to the audience and form the foundation for a new book
We aired four solocasts in late 2018 and early 2019 that I originally scripted out like chapters in another book.
Episode 854: You need to be more than a one-trick pony
Episode 864: Narrowing your business and tightening focus
Episode 877: How to build an audience from scratch
Episode 885: How to slice and dice content
We released them as solocasts because we wanted to make sure the cornerstone content was on-point — was it helpful?
We thought it was — but the only way to truly be sure was to share it with you, Onward Nation — and then listen.
Your feedback was positive.
So four chapters became solocasts — feedback was collected — and now the chapters will be strengthened and made better.
As a result, the book that will be released this Fall will be that much better. Awesome!
Example #6: Speaking engagement provides 4-weeks of YouTube content
In April — Chris Prefontaine asked me to speak at his Business Scaling Secrets event he was hosting in Newport, Rhode Island. Awesome!
Chris's team recorded the audio and video of the entire 2-day event and then gave my team a copy.
We dissected the 60-minutes of footage from my presentation and found what we thought were my most helpful segments.
I then recorded video intros and outros for each of the five segments.
And then Katherine on my team combined each segment with the corresponding intro and outro — and presto — we had five video episodes that delivered a month+ of cornerstone content for our YouTube channel.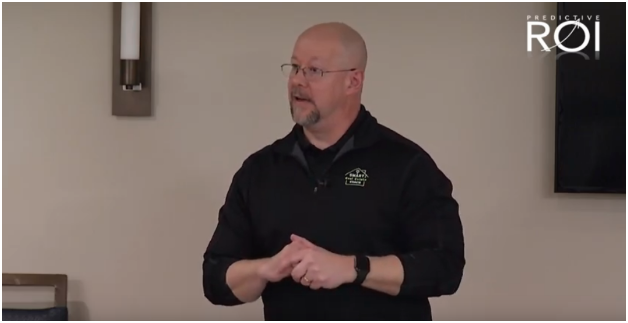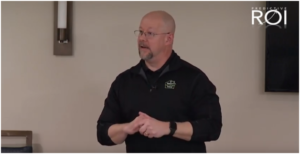 Example #7: Guest interviews becomes free eBook for Resources section
Okay — if you've been listening to Onward Nation for a while now — you've most likely heard me talk about our free Resources Library on PredictiveROI.com where you can download eBooks, guides, and other helpful content we have compiled from the brilliant insights shared by our generous guests.
So here's how we do that…
I typically select three Onward Nation episodes that I've recorded with thought leaders whose expertise compliments each other — but — they are not competitors from a business perspective.
Their content addresses a similar topic but with their own unique POV — so each expert is super helpful.
We then create a transcript and provide the full-text files to Craig on my team.
Craig writes a draft of the eBook and sends it to me for review.
I review the draft and add some additional context from my perspective as the Onward Nation host and as a business owner.
I send the final version of content to Katherine on my team for layout and design.
The final version comes back to me so I can share it as a sneak peek before it goes live with the three guests.
And then Katherine posts the eBook to our PredictiveROI.com/Resources section — available free to you, Onward Nation.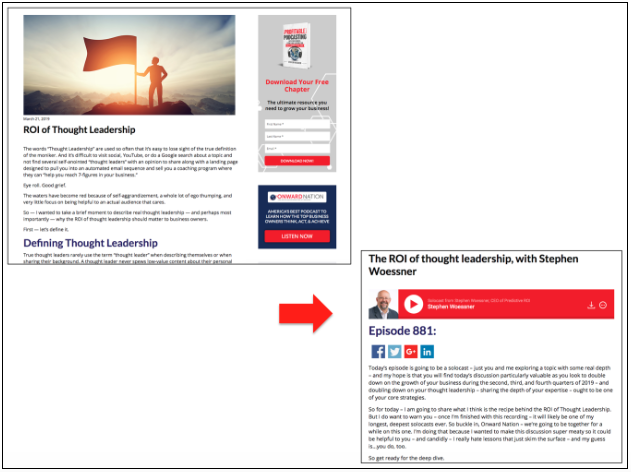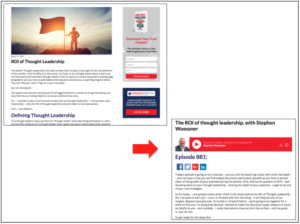 Example #8: Episode Show Notes become social media content
At a minimum — we take the highlights of each episode and cut it up into eight pieces of social media content.
For example — we write one Facebook post for each episode.
We write a LinkedIn post.
And we write 5 tweets.
But that's the minimum.
We will also write what we like to call long-form LinkedIn posts and blog posts for some episodes in order to capture the depth of content.
Typically — business owners and their teams leave so many slicing and dicing opportunities on the table.
And we try to capture each one and squeeze the juice out of every piece of cornerstone content.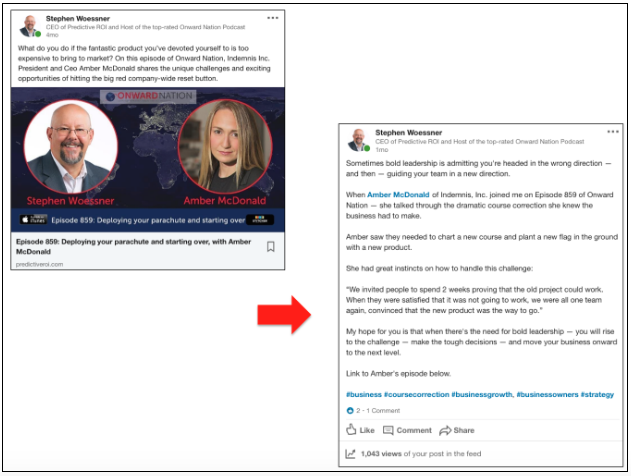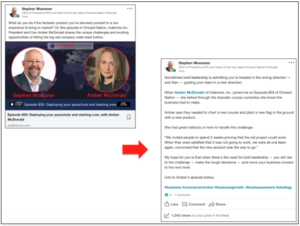 Example #9: Transform YouTube Cornerstone Content into weekly e-newsletter to your audience
I sit down and record a batch of videos for YouTube and upload them to Google Drive — typically on a Saturday morning when I am home in Wisconsin and not travel. Or, I take the camera with me and find a quiet spot in a hotel lobby to get three or four recorded.
We send the finished videos off to Temi.com for transcription.
Then I pull the introduction of the video out of the transcript and use it to write an introduction to our Friday e-newsletter.
We promote the video within our Friday e-newsletter.
I follow this same recipe nearly every week for our e-newsletter.
The cornerstone content is helpful to our audience and it takes me about 30-minutes to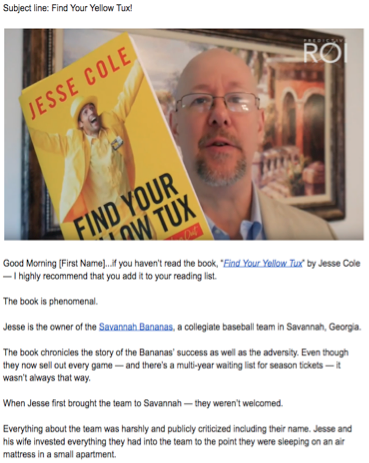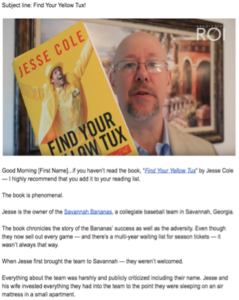 pull it all together and then give it to Amy on my team for prep and distribution within Infusionsoft.
Okay, Onward Nation — so there you have it…9 examples that you can take and apply to your own slicing and dicing. And my guess is — as I was sharing the 9 examples — you were likely coming up with creative examples of your own of how to do it even better.
And if so — awesome! Be sure to drop me a line with some links — I'd love to see what you and your team come up with.
Okay — with that said – and before we close out and say goodbye, Onward Nation — I want to again give you a very big thank you.
There's absolutely no way that we would be approaching 1,000 episodes and our 4-year anniversary without your ongoing support, your encouragement, and your feedback.
You help us get better each day, Onward Nation.
We appreciate all of the ratings, all of the reviews, and all of the emails – thank you very much.
And if you haven't left us a review on iTunes…we would appreciate it if you took a couple of minutes and did…so we added a link to today's show notes to make it as efficient as possible.
Okay, Onward Nation — I look forward to being back with you next week – until then – double down – and onward with gusto!
Fill Your Sales Pipeline Q&A
LIVE Wednesdays at 1:00 pm Eastern / 12 Noon Central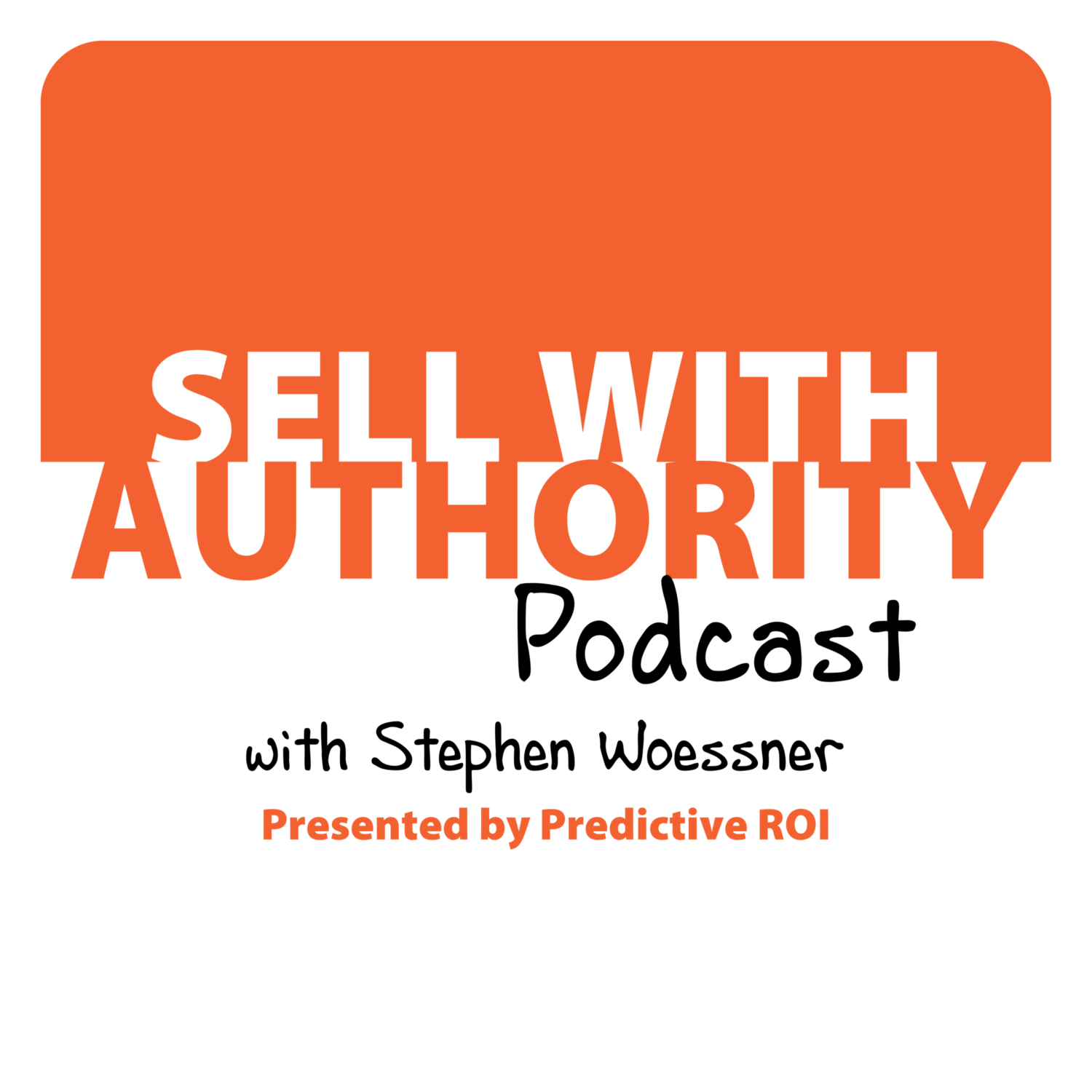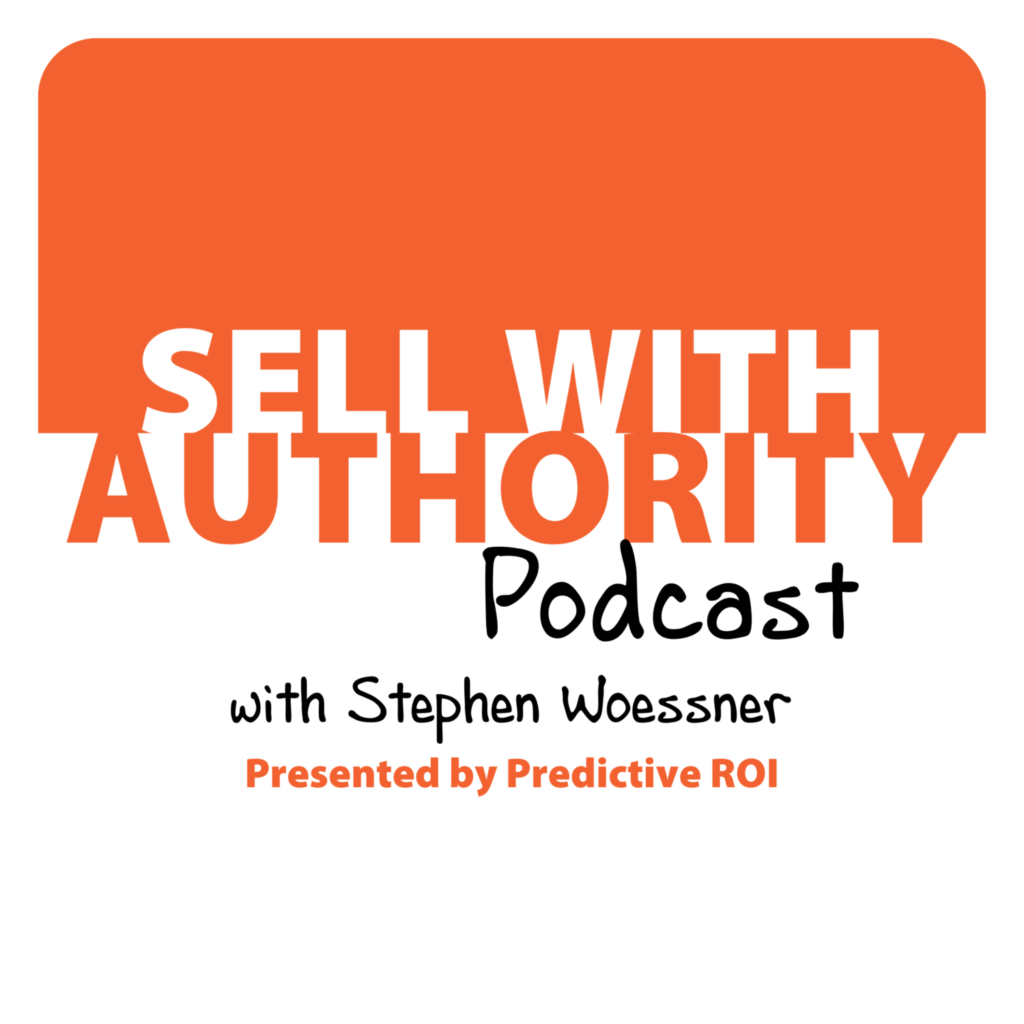 The Sell with Authority Podcast is for agency owners, business coaches, and strategic consultants who are looking to grow a thriving, profitable business that can weather the constant change that seems to be our world's reality.