The Three Faces of Fear, with Stephen Woessner.
Episode 352
Stephen is the CEO of Predictive ROI and the host of the Onward Nation podcast. He is the author of two bestselling books, speaker, trainer, and his digital marketing insights have been featured in SUCCESS, Entrepreneur, The Washington Post, Forbes, Inc. Magazine, and other media.
Subscribe to Onward Nation!
Good Morning Onward Nation…welcome to Episode 352…I'm Stephen Woessner. I am really looking forward to this solocast — because — we are going to tackle what I am beginning to consider as the most expensive money draining constraint inside any business.
And I suppose it is not fair or accurate to say inside any business — because this mistake actually happens inside us. It is something that is completely within our control — and to make matters worse — it is a constraint we put into place — and it keeps us from moving forward.
That constraint is the Imposter Syndrome, Onward Nation.
After interviewing nearly 400 of today's top business owners around the world — I can tell you with 100 percent certainty — that every single person who has walked this Earth has felt the effect of the syndrome pushing them down and applying great weight to their shoulders.
No matter how big and successful someone may seem on the outside — the syndrome is there.
If you have been listening to Onward Nation a while now — you have heard our guests talk about the Imposter Syndrome — and — what the syndrome actually is. And that is fear.
Fear of uncertainty — or there is also the reverse of that — the fear of certainty.
The fear of not achieving significance.
The fear of failure or the fear of success.
There are many types of fear and it paralyzes us from making important decisions or taking action on new opportunities like you hiring the additional staff we need because remain small seems like the prudent thing to do.
Or…not buying the new piece of equipment because what if you don't have enough orders to run it at full capacity?
Or…not launching that podcast you have always dreamt of because what if no one tunes in an listens and you can't get guests to join you on the show?
Or…not knocking on the door of investors who would be excellent partners of yours but you are tired all getting all of the NOs!
So here's the good news.
All of the pain and pressure fear causes us to feel on a daily basis is actually pretty simple to fix when have the right recipe for success. And the recipe I am going to share with you is something I learned from John Livesay, a good friend of mine and one of today's leading experts in helping business owners go from invisible to investible.
John helps business owners and executives craft a compelling pitch that engages investors in a way that inspires them to join a startup's team. John is also the host of the brilliant "The Successful Pitch podcast," the author of the new book "The Successful Pitch — Conversations About Going from Invisible to Investible," and Inc. Magazine calls John "The Pitch Whisperer."
Impressive credentials.
But, John and his business partner — Judy Robinett — also help business owners get ready to make a successful pitch to investors so the business gets funded — and in many instances — get funded fast — because of Judy's impressive connections within the investor community.
You may remember Judy as our rock solid awesome guest in Episode 329 of Onward Nation and John will be my guest on Episode 360, which will air on Monday, November 7th.
What I love about John's approach to working with business owners in creating their successful pitch is how he smartly addresses what he calls "The Three Faces of Fear" right at the onset the working relationship.
Why is this important?
Because if John can help a business owner get past their fear — and these three fears specifically — then the probability of the business owner delivering a successful pitch and getting funded increases exponentially.
How does John know this?
Because it is exactly what he had to do inside his own business.
The tech startups John was helping with their pitch kept telling him, "This is great. We definitely need help but what we also need are warm introductions to investors now that we have this great pitch."
But John kept saying to his clients, "I don't do that. I don't know any investors."
But, there were enough business owners asking John to make the introductions that he realized he should follow his own advice… "If your customers and clients are telling you something that they want and are willing to pay for, then maybe you should figure out how to get it for them."
So John's Successful Pitch podcast was his way of building up his network of investors so he could introduce his clients, which it definitely did — but before he could begin to build the initial momentum — he had to overcome the Three Faces of Fear.
John shared with me that when he gets afraid to do something outside of his comfort zone, he has found success when he puts a "face" on it — otherwise, it just becomes too overwhelming and so fearful.
But if he can make the fear more tangible — then that's the first step to overcoming the fear.
The three faces of fear are:
The Fear of Rejection.
The Fear of Failure
The Fear of the Unknown.
For John, he ran into the Fear of Rejection when he would say to himself, "Well, what if I invite someone to be on my podcast and they say, "No thanks," or "Let's hear several other episodes before I accept."
But, he was able to push past this initial fear by drawing on his years of sales experience that told him — despite the fear, doubt, and pressure he was feeling inside — that key to victory was to never take rejections personally and to never reject yourself.
Onward Nation, don't say "no" on behalf of your clients or prospects.
If they say no — so be it — but keep yourself in the game and keep on fighting.
The second fear John had to overcome was the Fear of Failure.
When you're starting a podcast, a new business, or seeking capital from an investor, the Fear of Failure will knock on your door and say, "What if you invest all this time and all this money and nobody downloads and episode? Won't that be humiliating? Won't that be a waste of time and money?"
But thankfully for John, one of his early podcast guests was Jay Samit who wrote a book called, "Disrupt You." In the book, Jay wrote, "Failure is just feedback. Keep going until you get a zombie idea so great it won't die."
Excellent advice from Jay, Onward Nation. And just a heads up — make a mental note — Jay Samit will be our guest on Episode 366, which will air on Tuesday, November 15th.
So John if you are listening — thank you for the wonderful introduction to Jay.
Then the third fear is the Fear of the Unknown.
The list of things John didn't know about starting his podcast was a mile long, including what microphone to buy, how to edit the episodes, how to promote the show, all the way to what questions to ask during the interviews.
John had been a guest on many shows and media appearances, but never hosted one, which is a very different experience being on the host-side of the microphone. John found all of the technology-related items to be overwhelming and potentially could have been the thing that stopped him from launching the show.
But, then John found someone who could produce the show for him and all he had to focus on being a great host.
Boom. No more Fear of the Unknown.
John's approach to conquering the three faces of fear is masterful and I encourage you to apply it. I also want to share with you and early detection system — something to warn you when you are about to get bombarded by fear — how can you prepare yourself for the thoughts to come next?
Excuses are an early indicator to fear. When we hear excuses playing or circling around in our mind — matched up with some sort of justification — it is likely because we are feeling the impact of fear. So I want to arm you with a list of 50 excuses that Napoleon Hill documented in his groundbreaking book, Think & Grow Rich.
If and when one of these thoughts comes into your mind, let it be your litmus test, that you are heading down the path of fear — it is time to confront it for what it is — dismiss it and move on. Or, if you hear one of your employees, colleagues, or friends say something similar to what is on the list…ask them…what are they afraid of…what is the worst that could happen?
Here is the complete list of 54 excuses…courtesy of Napoleon Hill:
If I didn't have a wife and family…
If I had enough "pull"…
If I had money…
If I had a good education…
If I could get a job…
If I had good health…
If I only had time…
If times were better…
If other people understood me…
If conditions around me were only different…
If I could live my life over again…
If I did not fear what "they" would say…
If I had been given a chance…
If I now had a chance…
If other people didn't "have it in for me"…
If nothing happens to stop me…
If I were only younger…
If I could only do what I want…
If I had been born rich…
If I could meet "the right people"…
If I had the talent that some people have…
If I dared assert myself…
If I only had embraced past opportunities…
If people didn't get on my nerves…
If I didn't have to keep house and look after the children…
If I could save some money…
If the boss only appreciated me…
If I only had somebody to help me…
If my family understood me…
If I lived in a big city…
If I could just get started…
If I had the personality of some people…
If I were not so out of shape…
If my talents were known…
If I could just get a break…
If I could only get out of debt…
If I hadn't failed…
If I only knew how…
If everybody didn't oppose me…
If I didn't have so many worries…
If I could marry the right person…
If people weren't so dumb…
If my family were not so extravagant…
If I were sure of myself…
If luck were not against me…
If I had not been born under the wrong star…
If it were not true that "what is to be will be"…
If I didn't have to work so hard…
If I hadn't lost my money…
If I lived in a different neighborhood…
If I didn't have a past…
If only I had a business of my own…
If other people would only listen to me…
And…here is the greatest excuse of them all, Onward Nation…
"If I had the courage to see myself as I really am, I would find out what is wrong with me and correct it, then I might have a chance to profit by my mistakes and learn something from the experience of others, for I know that there is something wrong with me, or I would now be where I would have been if I had spent time analyzing my weaknesses, and less time building excuses to cover them."
Onward Nation, please realize that the fear you may be feeling right now is not real.
Fear is made up.
Fear doesn't exist. Fear doesn't have any power over you unless you let it.
The next time you are feeling pressure — the next time you are feeling fearful — would you please do me a favor?
Just pause — take a deep breath — tell yourself the emotions you are feeling right now are not real — that they are simply the Imposter Syndrome trying to keep you from your destiny — and then — remind yourself of the wise words from Marianne Williamson…
"Our deepest fear is not that we are inadequate. Our deepest fear is that we are powerful beyond measure. It is our light, not our darkness that most frightens us. We ask ourselves, 'Who am I to be brilliant, gorgeous, talented, fabulous?'
"Actually, who are you not to be?
"You are a child of God. Playing small does not serve the world. There is nothing enlightened about shrinking so that other people won't feel insecure around you.
"We are all meant to shine, as children do. We were born to make manifest the glory of God that is within us. It's not just in some of us; it's in everyone. And as we let our own light shine, we unconsciously give other people permission to do the same.
"As we are liberated from our own fear, our presence automatically liberates others." — Marianne Williamson, Author of A Return to Love: Reflections on the Principles of "A Course in Miracles"
Okay, Onward Nation?
So with that…I want to say thank you again for taking the time to be here with me today.
It is an honor to have you here — thank you for tuning in — I am delighted you chose this episode to be what you listen to, study, and take with you on your morning run, or maybe Onward Nation has become part of your daily commute, or in some other way has become part of your morning routine.
I want you to know how much I appreciate you sharing some of your invaluable 86,400 seconds you have in your day with me and the strategies we learn and share each day from today's top business owners.
And please continue to let me know what you think of Onward Nation…good or bad…I always want your feedback. You can hit me up on Twitter, find us on Facebook, me on LinkedIn, or you are always welcome to email me directly at [email protected] — and yes — that is my actual email address — no fancy filters or filing system — it will come directly to me.
We will be back tomorrow with an incredible encore interview with Thomas Lindsay — you will not want to miss Thomas's philosophy why keeping things simple — no matter what business you're in — tends to be the pathway to profitability, Onward Nation. The conversation with Thomas is rock solid awesome.
Until then, onward with gusto!
Fill Your Sales Pipeline Q&A
LIVE Wednesdays at 1:00 pm Eastern / 12 Noon Central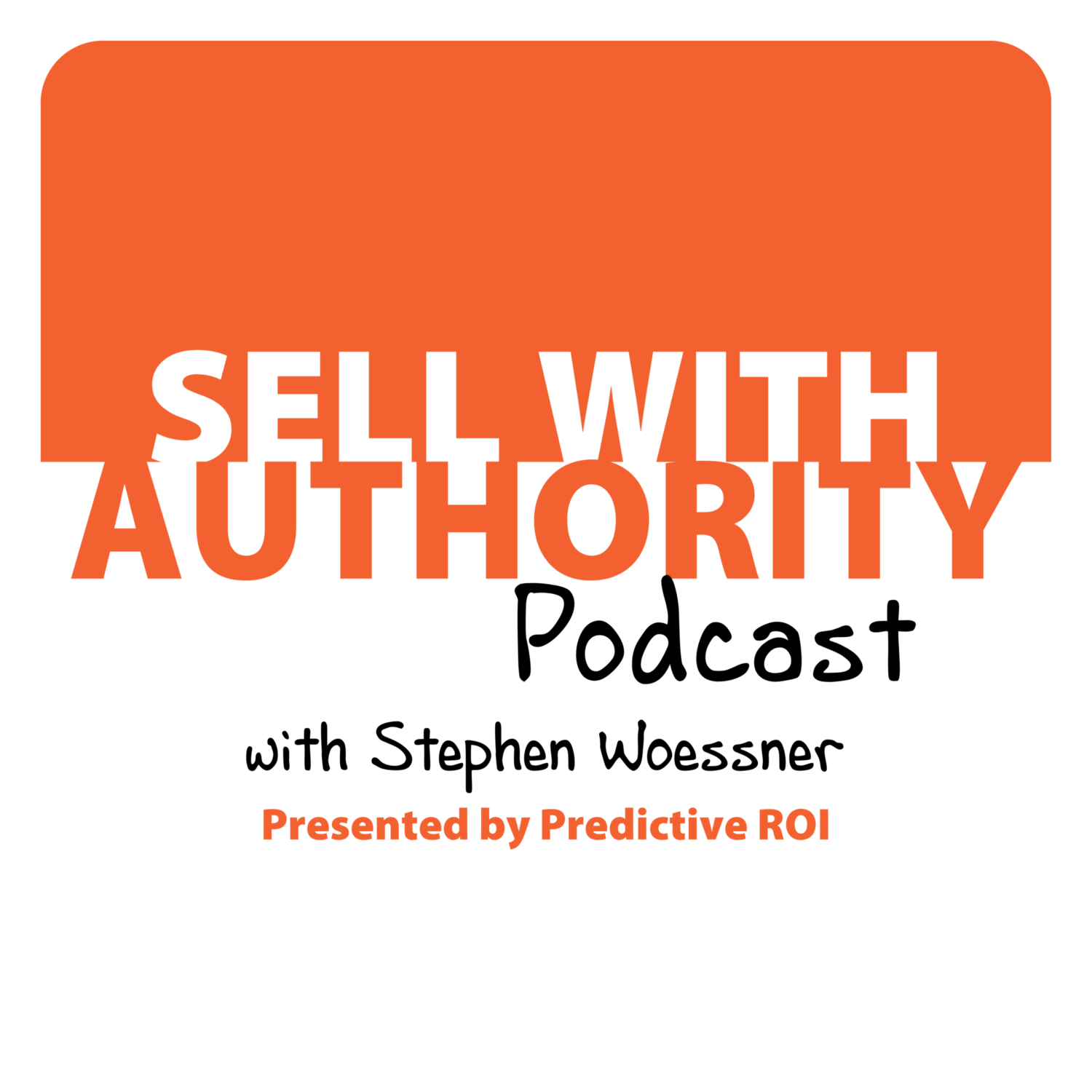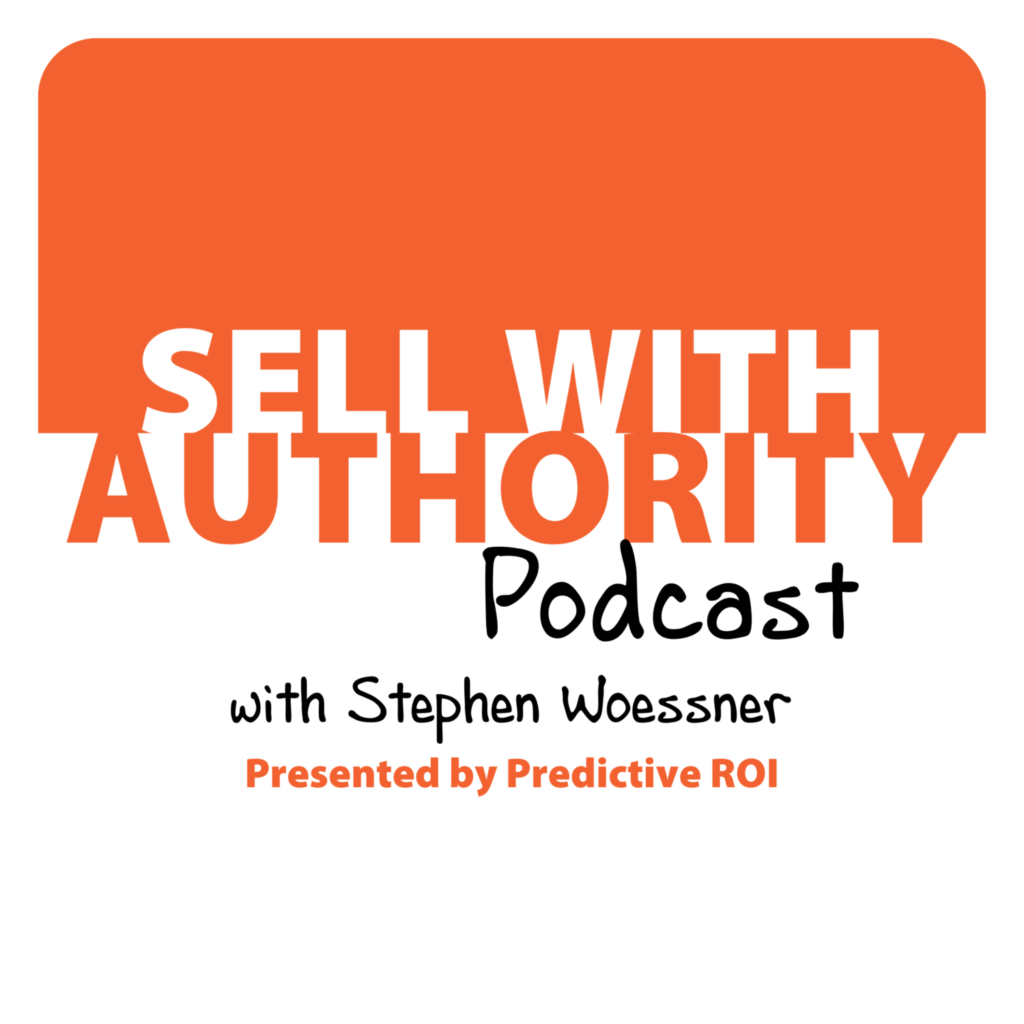 The Sell with Authority Podcast is for agency owners, business coaches, and strategic consultants who are looking to grow a thriving, profitable business that can weather the constant change that seems to be our world's reality.