Grow Audience - Nurture Leads - Increase Sales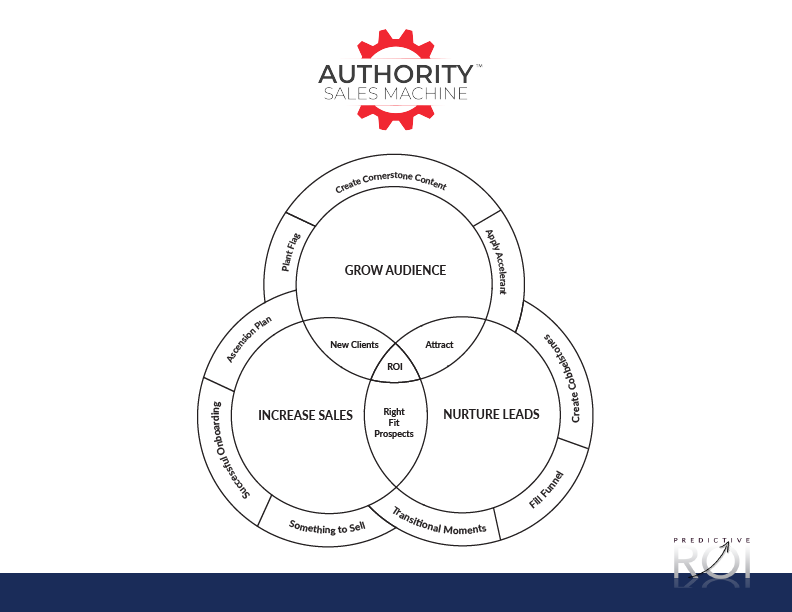 We believe most agencies, coaches, and consultants go about sales in the least productive, most painful way possible. They get thwarted by gatekeepers at every turn — blocked from opening doors and building relationships with their dream prospects.
Becoming THE AUTHORITY in the niches you serve will give you the ability to grow your audience, nurture leads, and increase sales in a predictable, repeatable, and measurable way. 
Sell without your prospects ever feeling like they were a prospect. 
We can help you and your team accomplish this goal in a variety of strategic and tactical ways. 
We call it the Authority Sales Machine.
Sell With Authority Audit
This is the jumping-off point for many business owners who want to understand how they compare to the 6 Pillars of Authority we know matters. In less than 10-days — our team does a deep dive into your content and positioning, we uncover several strategic insights, and then we provide you with immediate action steps to apply.
Profitable Podcasting Course
If you're looking to plant your flag of authority by leverage all the benefits of podcasting — our course will provide you with a comprehensive, step-by-step system from launch to monetization. We've seen the right strategy turn simple podcasts into profitable business development machines — and this course will show you how.
Authority Sales Machine Sprint
The ASM Sprint is all about kicking your authority into gear! You work with our team for a combination of one-on-one and group training sessions over the course of 90-days. We dive into all the elements you need to create your own Authority Sales Machine.
Sell With Authority Turn Key
If you are looking to put our team of experts to work on YOUR content, this is the path for you. ASM Execution is the full-service option where our team builds out your platforms, writes your content, and creates a custom Authority Sales Machine for your business.
"I don't care what business you are in, for you to establish yourself as THE authority is going to drive business that you can't even imagine." ~ Chris Prefontaine