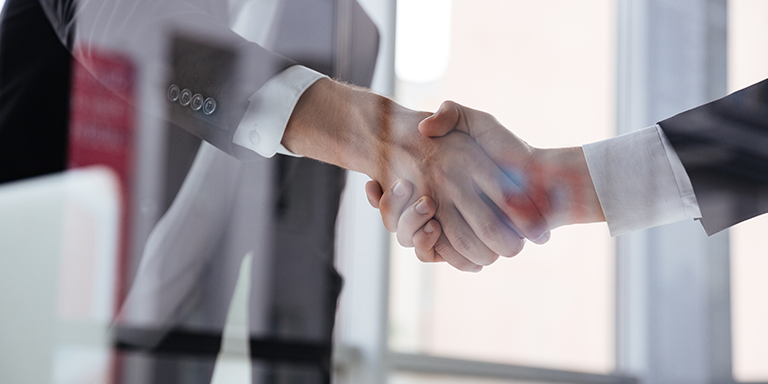 How To Find a Sponsor for Your Content
We prepared this blog post so you would have a practical and tactical guide for how to find a sponsor for your content. Because what if I told you that finding a sponsor for your cornerstone content is not only possible, but could represent a significant source of revenue for your business? This is not far-fetched, delusional thinking. THIS IS A PLAN OF ACTION. And you don't have to have a gazillion downloads on iTunes or a YouTube sensation to make this happen.
SOME BACKGROUND
To understand the potential you have in the way of sponsorship revenue, you should know a bit about Linda Hollander. Linda knows this space very well. She has been featured by Inc. and Entrepreneur magazines as an industry leader in corporate sponsorship. She has over 20-years of experience as a business owner and does sponsorship and business consulting. Her clients and sponsors include Microsoft, FedEx, Bank of America, IBM, and many more. This is the kind of knowledge base you want in your corner!
Stephen Woessner, CEO of Predictive ROI interviewed Linda for Episode 383 of Onward Nation to learn more about how to find a sponsor for your content – and we've seen others take her concepts and fly with them. It's pretty exciting. It's the kind of thing that's worth sharing. You can do this!
Here's the truly remarkable part about finding a sponsor: just because you don't have a million followers, doesn't mean you can't build an incredible core business where sponsors will absolutely want to pay you $30,000 or $50,000 – even $100,000 to be part of the special relationship you are building with your customers and true fans. What you do need above anything else is the confidence to know that it is possible. That you can do it. That you can deliver value to a sponsor. That you have built an audience, a customer base, a loyal following – no matter the size – who value you, who love you, who appreciate your opinion, your insights, and they look to you for guidance.
So let's dig in. We're going to explore what you have that sponsors will value, what sponsorship is – and then the recipe to go get it!
FIRST, UNDERSTAND THE VALUE OF YOUR PROPERTIES TO YOUR SPONSOR
This is a crucial point. Your ability to sell $30,000, $50,000 or even a $100,000 sponsorship rests solely on you creating "properties" that attract the prospects and customers who your sponsor wants to be doing business with – and – that you create the type of culture a prospective sponsor wants to be aligned with.
Here's a simple definition of sponsorship, straight from Linda Hollander: Sponsorship is "Connecting a company with people who can buy things." If you know people who can buy stuff, then you can get sponsors.
So think properties and think sponsorship – here are some ideas:
If you have a business — that could be sponsored.
If you host a radio show
If you plan and host events
If you host a podcast
If you host a television show or YouTube channel, or a blog – all these can be sponsored
If you are a speaker or an author, you can get a sponsor, because as a speaker and an author you have access to an audience — a fan base of people — who know your work and know your book, and as a speaker you command the platform.
David Mammano has a great success story. He listened to Episode 383 with Linda Hollander and took it to heart. Here's how he thought through packaging his different properties before he set out to find a sponsor for his content.
"Why am I just going to sell an event or why am I just going to sell my podcast? I'm doing a lot of different things for entrepreneurs. How could I package those up as properties and instead of selling just a one-time event or one product, such as a podcast, why not say no, I'm doing so much more than that?"
"And I just started thinking each one of these is a separate property that I need to package up and sell the benefits and the value that each property brings to the table so I create an ongoing relationship where I'm helping a corporate sponsor throughout the year."
Bottom line: SPONSORSHIPS MATTER – they add credibility to your brand. They show you, the sponsor and the world that you have something of value to share.
So now you know why you should think about sponsorships – how it is very possible.
It is also very DOABLE. Here is the detailed recipe to getting sponsors for your various business properties.
HOW TO FIND A SPONSOR FOR YOUR CONTENT: 3 Steps
STEP #1: WRITE YOUR SPONSOR WISH LIST
The first part is to do what Linda Hollander calls the "Sponsor Wish List." The wish list is the list of companies that you would like to have as sponsors. Remember in your sponsor wish list to include both Top Tier and the Second Tier sponsors. Most business owners when they start their wish list think only of Top Tier sponsors. Go deeper.
These second tier companies are outstanding prospects because they don't have the brand awareness of the big brands and will potentially be more open to what you have to offer.
Here's an example from Linda's experience. She worked with a company called Evolution Insurance Brokers. Not a huge name in Insurance, and that is exactly why they sponsored her. They wanted to get the word out about their company, how they stack up against the big players in the industry.
So-called second tier sponsors have money to invest. The opportunity is out there. Which brings us to…
STEP #2: PREPARE YOUR PROPOSAL
Step two is preparing your professional proposal. Here are some key components to an industry standard sponsor proposal.
The full sponsor proposal is about eight to ten pages in length and here's what it includes:
A description of your "Property." Your podcast is a property. Your book is a property. Your speaking business is a property. Your business, your event, your non-profit, whatever you are doing is called a property. You want to describe that.
You should include your sponsor's goals, such as increasing brand loyalty and customer base, education, and driving traffic and sales.
A one-page marketing plan. This should include all the ways you're going to get the word out about the sponsor. Sponsors are interested in this because marketing is the difference between a good idea someone has in their head and something that actually has legs and is sustainable.
You should include your demographics. Whether your demographics are mothers, the parent market, the entrepreneurial market, the urban youth, the baby boomer market, you need to describe your demographics. Include any testimonials you have.
Include your sponsor fees. You've been building the case, and here you show them what the exposure of your property to your demographic is worth.
But there is one more piece of the proposal – one that will really help you seal the deal…
STEP #3: CREATE AN EMOTIONAL CONNECTION THROUGH STORYTELLING
The last thing, and this is what really sets Linda Hollander's proposals apart, is storytelling.
You want to have good storytelling inside your proposal. Linda calls it "passion points."
David Mammano has a fantastic example of this – and it got him a $30,000/year sponsorship deal.
"I decided to personalize my sponsor proposal template. I explained the value of the podcast, the TV show, events that I'm doing for entrepreneurs, the social media that I'm doing, the email marketing – all of my properties."
"I included everything that I'm doing, put it together in this proposal, and saved it as a PowerPoint, sent it my contact at Paychex, he read through it, and literally he private messaged me back, and said, 'Wow. This is amazing. I need to take it to my boss because you're asking for a lot more than I thought.'
I think he was thinking I was going to suggest a test, for $5,000, sponsoring my TV show, and see what happens. Now it's $30,000. It's $2,500 a month for a year and across all my properties.
So literally the next day, he calls me on my cell phone and he's like, 'Dave, I don't know what just happened.' He said, 'My boss, he's usually a tough cookie.' He said, 'My boss within ten minutes said 'yup, I've read through the proposal.' He said, 'I've never seen anything like that. That's the best proposal I've ever seen. We're going to do this."
What exactly did David do to get that gut reaction from the sponsor? He made a personal connection.
So the first main section he entitles 'Welcome to Our Family.' And that's very consistent with his Avanti brand, the culture, and so forth. But there's an orientation right away into culture. Welcome to Our Family is that section.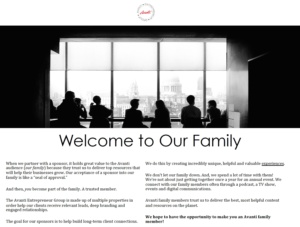 And then the next section after that is 'Who We Are' where he takes that a little bit deeper with the meaning of the word Avanti (which means "forward," or "come in!"), to really start to marinate that prospective customer or sponsor, into what Dave is building; what he and his team are building. And then after that, it goes even deeper into story.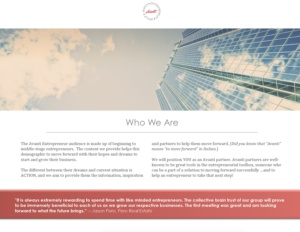 So let's just recap here. It starts with Welcome to Our Family. And most people would stop there. Most businesses would stop there. But then Dave took it deeper and sliced Welcome to Our Family apart and went into Who We Are and then finally into Our Story. And each layer is getting more and more granular into what the special sauce is at Avanti.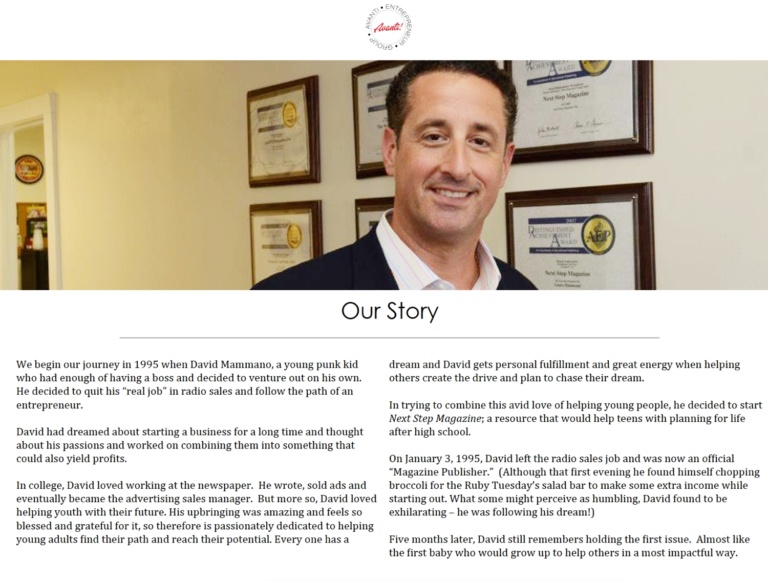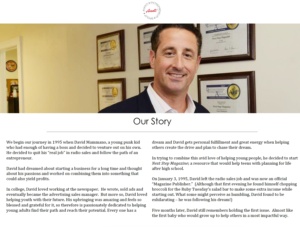 The emotional connection is important. It is crucial. You want to put beautiful storytelling in there. If you don't want to include your own story, put the story of someone you've helped through the work you do. But bring that personal connection into the proposal. It will make all the difference.
AVOIDING MISTAKES
So we've covered what to do to get sponsors – here are a few things NOT to do.
MISTAKE #1: Lowballing Your Value
Believe it or not, the first mistake is not asking for enough money.
Asking for too little money can hurt a business owner because they are, in effect, telling a sponsor they don't have anything of value to offer.
Linda often gets calls from business owners who are trying to sell their $500 sponsor package. They're going to be presenting to a busy, stressed-out person inside a company, and if they see a sponsor package priced at $500, they're going to think the business owner doesn't have anything of value.
In the sponsorship process, look for a "Champion," – this is the person within the sponsoring company who loves you. They want to sell you and your program to their colleagues, their team, and their boss, and maybe the people working under them to get it approved.
Your pricing strategy needs to communicate value in order for you and your champion to sell others on it.
For most of Linda's clients, what she sees them typically win is between $10,000 and $100,000 in annual sponsor fees.
MISTAKE #2: Not Using an Industry Standard Proposal.
Your sponsor proposal is one of the most important but least understood documents. You have to use an industry standard format or you will not get funded.
Your proposal must look amazing and have the right compelling benefits. See the above description for the right components.
YOU ARE WORTHY
This whole process starts with you believing in what you are doing – in the value you are bringing to customers and fans.
Maybe you feel like what you have to share is not that important. You are probably nervous about putting yourself out there, asking companies to put a dollar amount on the value of what you are offering. But maybe beyond those feelings, there is something deeper at work.
"Our deepest fear is not that we are inadequate. Our deepest fear is that we are powerful beyond measure. It is our Light, not our Darkness, that most frightens us." –Marianne Williamson
Don't be afraid to take this step. The key to success in any venture is to beat the imposter syndrome and get out of your own head, to allow yourself to study this recipe, and to give yourself the opportunity to apply it.
Fill Your Sales Pipeline Q&A
LIVE Wednesdays at 1:00 pm Eastern / 12 Noon Central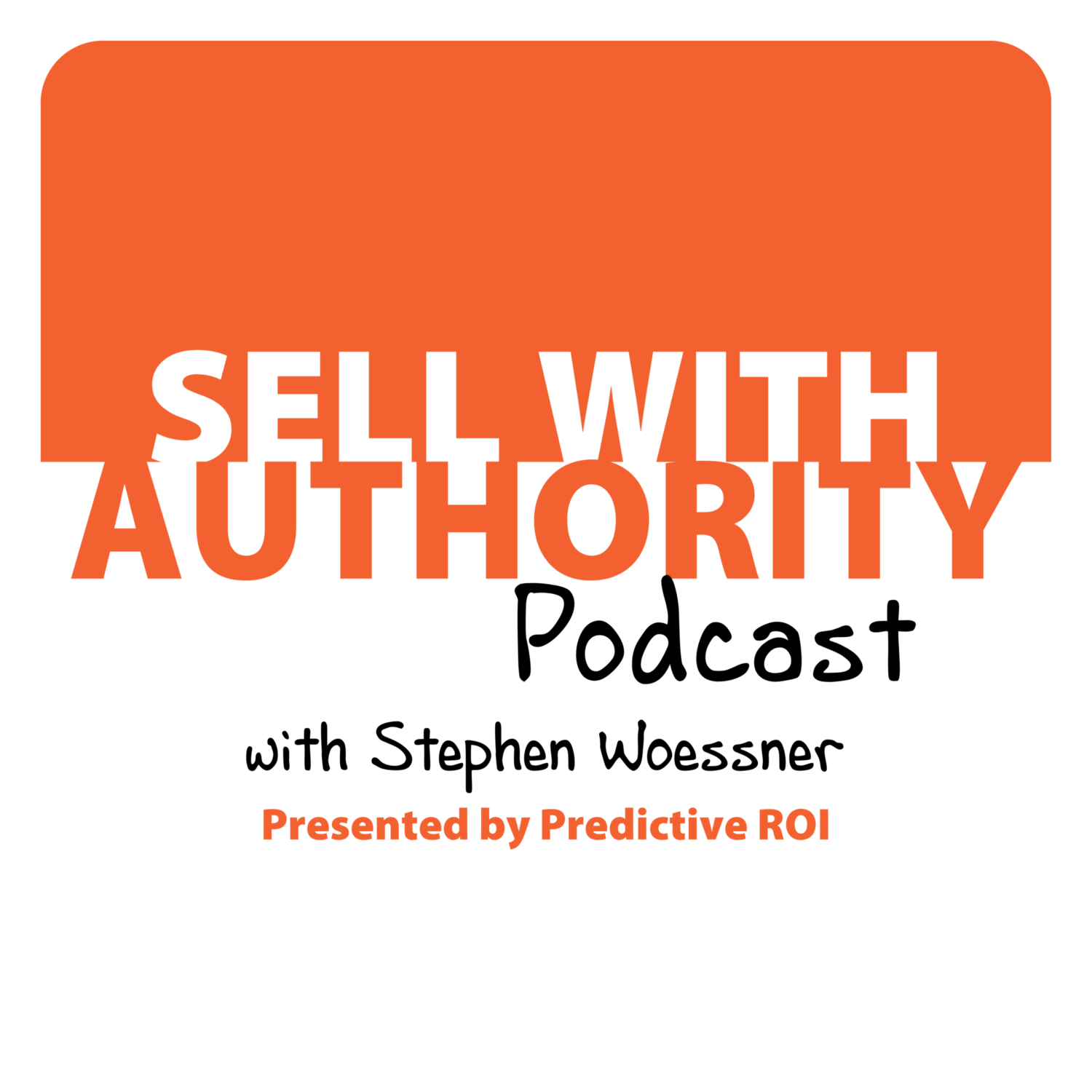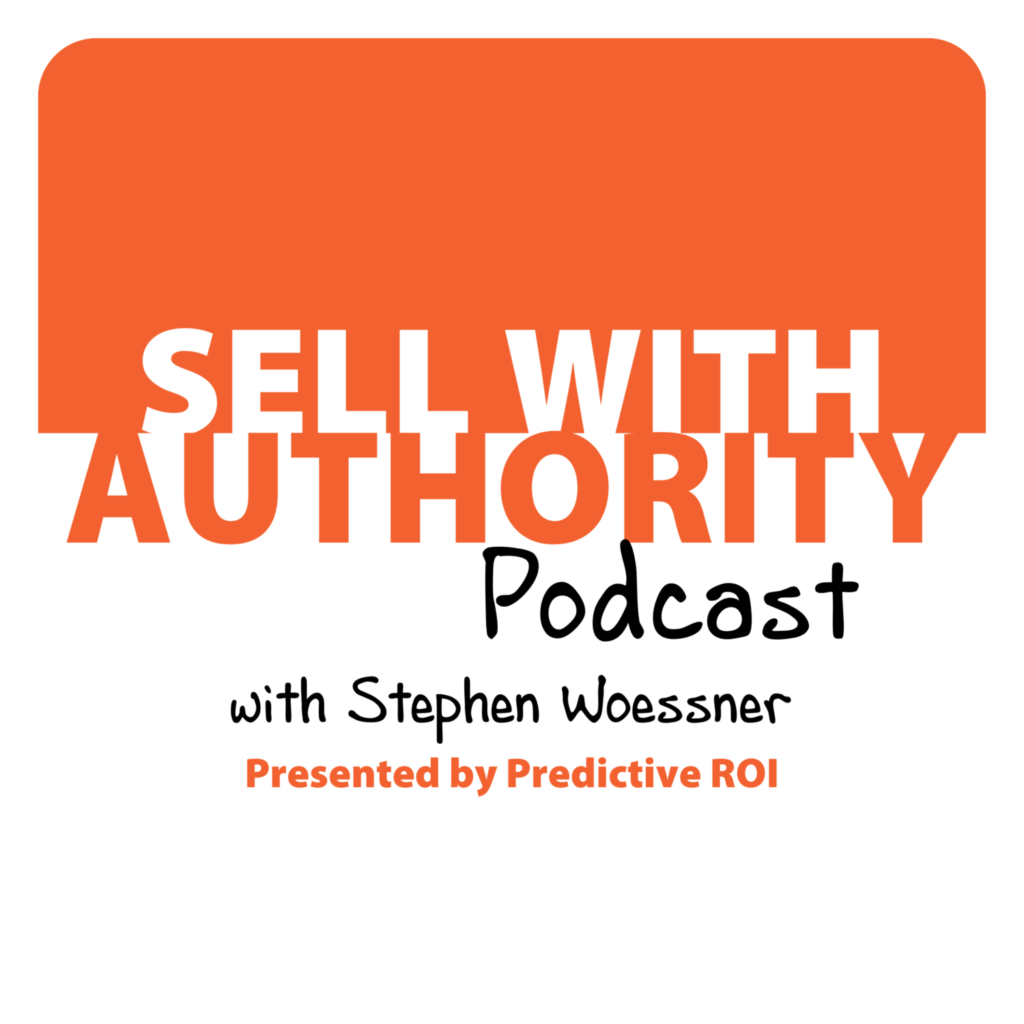 The Sell with Authority Podcast is for agency owners, business coaches, and strategic consultants who are looking to grow a thriving, profitable business that can weather the constant change that seems to be our world's reality.